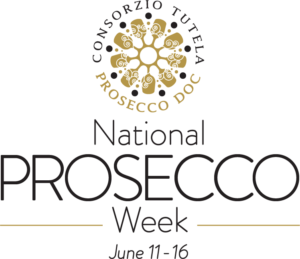 Prosecco DOC Announces the First Ever 'National Prosecco Week'
The renowned Italian denomination will be promoting the popular sparkling wine with masterclasses, restaurant and retail promotions, and activities for press, trade and consumers
New York, NY, April 9, 2018 – The Prosecco DOC Consortium, the entity that oversees the production of the hugely popular Italian sparkling wine, is pleased to announce the launch of the first ever National Prosecco Week, beginning Monday, June 11th. The week-long activation will see masterclasses for media and trade, as well as public consumer events at multiple cities throughout the United States—New York, San Francisco, Miami, Denver and Chicago. The masterclasses, led by well-known sommeliers in each city, will focus on teaching and showcasing Prosecco's food pairing versatility with various dishes. Consumer parties will also be held in these cities, in commemoration of the famous Italian sparkler.
On June 11th, as part of the 'National Prosecco Week' activities, Prosecco DOC will host an exclusive Prosecco & Pizza Competition at Ribalta pizzeria in New York. Four pizza makers will compete in front of five celebrity judges, which will include journalists, food influencers and widely respected pizza experts. The event will be solely for press, trade and industry influencers. Following the competition, a Pizza & Prosecco consumer event will be held at the renowned pizzeria Roberta's in Brooklyn on June 16th; at this ticketed event, attendees will be served Prosecco by the glass and Prosecco cocktails, along with specialty pizzas.
Prosecco DOC will also launch nationwide restaurant and retail promotion, from Prosecco 'by the glass' specials and limited-edition Prosecco and pizza pairings to various in-store promotions.
In addition to celebrating Prosecco, this initiative will also serve an important educational purpose, debunking myths and misconceptions about the Prosecco category and teaching consumers, press, and trade how to recognize—and enjoy—authentic Prosecco. The sparkler's ever-increasing popularity has been accompanied by an inevitable rise in imitations from within Italy and around the world, and steps toward recognizing real Prosecco grown in the designated area and according to strict regulations will be discussed.
Regarding the upcoming campaign and its scope, Prosecco DOC Consortium Director Luca Giavi states, "The US market is fundamental for our denomination and has always had a deep fondness for our wines. We feel that it is important to provide information to opinion leaders and consumers that allows them to recognize and fully appreciate the quality of our production."
Stay tuned for more details about the many exciting celebrations and initiatives of Prosecco DOC. For more information on National Prosecco Week, please contact casaprosecco@colangelopr.com. To stay updated for upcoming events, follow Prosecco DOC on Facebook (@proseccodocusa), Instagram (@proseccodoc_usa), and the Consortium's official US website, www.casaprosecco.com.