Facts & Figures on Prosecco DOC
"PROSECCO DOC IS THE MOST POPULAR ITALIAN SPARKLING WINE, IT MAKES A SIGNIFICANT CONTRIBUTION TO THE REGION'S ECONOMY AND IS THE SYMBOL OF QUALITY, SUCCESS AND THE ITALIAN LIFESTYLE." 
PRODUCTION AREA/ CLIMATE
The vines from which Prosecco is produced are exclusive to north eastern Italy, lying between the Dolomites and the Adriatic Sea. Prosecco DOC is unique because of a particular interaction between climate, soil and winemaking tradition.
HUMAN FACTORS
The art of cultivating vineyards in the fruitful lands of Prosecco has been evolving over centuries, but the technique of producing sparkling wines was perfected just in the last few years thanks to the passion of the producers.
A BRIEF HISTORY
"Ed or ora immolarmi voglio il becco con quel meloaromatico Prosecco," And now I wish to sacrifice my mouth for that apple-aromatic Prosecco) wrote Aureliano Acanti in his book, Rocco­lo Ditirambo, in 1754. We know that Prosecco was enjoyed even in Roman times because Pliny mentioned it in his Historia Naturalis, but it wasn't until the late nineteenth century that Prosecco first underwent secondary fermentation to become the sparkling wine that we all know today.
PRODUCT SPECIFIC CHARACTER, TYPES
Brilliant straw yellow in color with fine, persistent perlage and aromas of white flowers, apple and pear. It is fresh and elegant on the palate with moderate alcoholic strength.
– Sparkling, 76% of total production
-Semi-sparkling, 23% of total production
-Still, 1% of total production
PRODUCTION METHOD
Harvest
Destemming
Pressing
First fermentation
Second fermentation in autoclave
Bottling and labelling
CONSUMPTION
Prosecco pairs well with the traditional Italian dishes and its versatile character is perfect for exploring new culinary horizons of international cuisine. With its moderate alcoholic strength, Prosecco DOC can be used for aperitifs, toasts and at social gatherings.
HOW TO RECOGNIZE THE REAL PROSECCO DOC
The state mark and seal guarantees the origin and the quality.
HOW TO READ THE LABEL
-Prosecco DOC or Prosecco Denominazione di Origine Controllata
(Registered Designation of Origin)
– Prodotto in Italia (Made in Italy)
– Fascetta di Stato (State mark and seal]
– Spumante / Frizzante (Sparkling)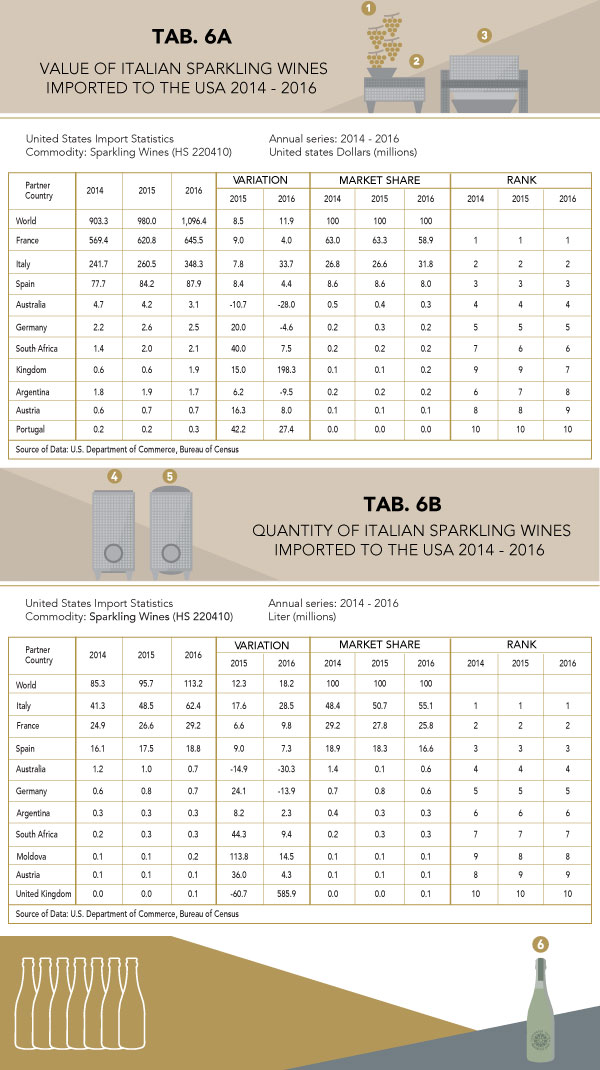 Sign up for the Prosecco DOC Newsletter