Prosecco DOC Fall Pairings
Fall, the apple picking, pumpkin carving and Thanksgiving season has finally arrived and with it, the misconception of 'drinking only red wines' haunts many. Sparkling wines, particularly Prosecco DOC sparklers, have become an increasingly popular pairing partner year-round, not just for holidays or special celebrations. They bring elegance and food-pairing versatility to a wide variety of meals.
 Welcoming the Flavors of Fall

This is it, summer has flown by yet again and Labor Day weekend is long gone. As we slowly bid adieu to the warm, sunny days and begin to embrace the cooler season, we find ourselves in that fickle transitional period; as the sun starts setting earlier, some days may be sweater weather while others take us back to the hottest day in July, making us reminisce about our summer adventures. This ubiquitous phase is the perfect time for versatile wines, making Prosecco DOC the perfect gateway wine to welcome the fall season. Unlike the notoriously cold region in which Champagne grapes are grown, the sunny, warmer climate of the Veneto and Friuli regions allows the Glera grapes to ripen more fully, ultimately yielding a lighter, fruitier wine. These qualities make Prosecco ideal for both sweet and salty foods.
When pairing Prosecco, it is important to keep in mind that the wine is typically sorted into three categories according to their amounts of residual sugar: "Brut," "Extra Dry," and "Dry." Interestingly, Prosecco labeled as "Dry" is the sweetest of the three. When looking to pair Prosecco with sweeter foods and desserts it is best to use Dry and Extra Dry Proseccos. Brut Proseccos, by having less residual sugar, are brightened by a higher perception of acidity which allows it to cut through salty and fattier foods. Here are some fall favorite foods that you will definitely want to enjoy with Prosecco DOC!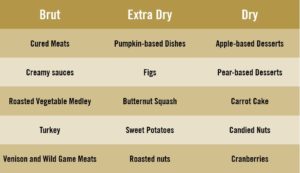 Sign up for the Prosecco DOC Newsletter