Prosecco DOC's Latest Lifestyle Ventures
On April 13, Prosecco DOC was pleased to be a part of the New York Auto Show's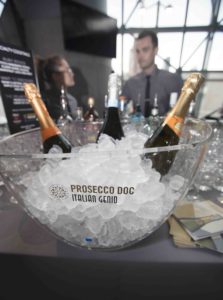 exclusive preview event at the Jacob Javits Convention Center in Manhattan.
Studded with luxury vehicles' 2018 models including Ferrari, Lamborghini, Bugatti, Maserati, and dozens of other brands from across the globe, the event was an opportunity for automobile enthusiasts to gain a first look at what's to come in the world of vehicular transportation.
Prosecco DOC could be spotted at any of the four bars setup throughout the Javits Center, and guests enjoyed its bubbles as they perused the vast collection of automobiles present.
An increasingly popular drink of choice for social outings, Prosecco DOC is pleased to have been involved with a variety events so far this year, including Young Collectors Night, a winter antiques show in New York City, as well as The Couture Fashion Show during New York's famed Fashion Week.
Prosecco DOC is excited to continue to support lifestyle and trend alert events. Looking forward, Prosecco DOC will be featured at Time Out New York's summer pool parties, where guests will be able to enjoy Prosecco DOC's refreshing bubbles at three exclusive outdoor functions.
Want to learn more about Prosecco DOC USA? Sign up for our newsletter.
Sign up for the Prosecco DOC Newsletter