New York, November 27, 2017 – The Prosecco DOC Consortium, the entity that oversees the production of the hugely popular Italian sparkling wine, is pleased to announce the second edition of Prosecco Month beginning December 11th.
The activation will see trade, press, and public events at multiple Eataly locations—New York Flatiron, New York Downtown, Chicago, and Boston— throughout December. The Prosecco DOC Consortium is thrilled to be hosting these events during the celebratory holiday season in collaboration with the world-famous Italian food mecca. Prosecco DOC will also host an exclusive press and trade masterclass at Cibo Wine Bar in Miami and will be featured in one of the first episodes of the upcoming TV series Italian Mentor, airing on NYCLife channel.
In addition to ringing in the holidays, this initiative will also serve an important educational purpose, debunking myths and misconceptions about the Prosecco category and teaching consumers, press, and trade how to recognize—and enjoy—authentic Prosecco. The sparkler's ever-increasing popularity has been accompanied by an inevitable rise in imitations from within Italy and around the world, and steps toward recognizing real Prosecco grown in the designated area and according to strict regulations will be discussed.
Regarding the upcoming promotion and its scope, Prosecco DOC Consortium President Stefano Zanette states, "The US market is fundamental for our denomination and has always had a deep fondness for our wines. We feel that it is important to provide information to opinion leaders and consumers that allows them to recognize and fully appreciate the quality of our production."
The main calendar of Prosecco Month events is as follows: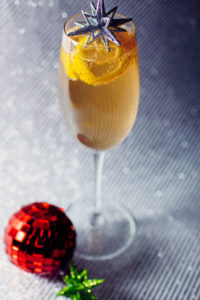 Stay tuned for more details about the many exciting celebrations and initiatives of Prosecco DOC. For more information, please contact casaprosecco@colangelopr.com. To stay updated on December's events, follow Prosecco DOC on Facebook (@proseccodocusa), Instagram (@proseccodoc_usa), and the Consortium's official US website, www.casaprosecco.com.
**********
About The Prosecco DOC Consortium:
Prosecco was granted the Controlled Designation of Origin status on July 17th, 2009, and the Prosecco DOC Consortium (Consorzio di Tutela della Denominazione di Origine Controllata Prosecco) was created on November 19th of the same year to coordinate and manage the Prosecco DOC. The organization unites the different groups of manufacturers—wineries, individual and associated vine-growers, still wine and sparkling wine producers—to ensure the designation continues to grow and that the production regulations are complied with.
About Prosecco DOC:
Prosecco DOC wines come in Spumante (sparkling), Frizzante (semi-sparkling) and Tranquillo (still) varieties. The wines are made from mainly the Glera grape, native to North East Italy for thousands of years, and can be combined with a maximum of 15% of the following grapes: Verdiso, Bianchetta Trevigiana, Perera, Glera lunga, Chardonnay, Pinot Bianco, Pinot Grigio and Pinot Nero. Prosecco Frizzante and Spumante varieties get their famous bubbles using the Secondary Fermentation production method, bottled under high pressure after fermentation in bulk tanks called autoclaves, as opposed to the traditional method, which bypasses the autoclaves and is used for other sparkling wine varieties. The end result is a brilliant straw yellow wine with fine, persistent perlage and aromas of white flowers, apple and pear. It is fresh and elegant on the palate with moderate alcoholic strength. For a full list of Prosecco DOC producers, visit
www.prosecco.wine
.
About Colangelo & Partners
Colangelo & Partners (
www.colangelopr.com
) specializes in premium food, wine, spirits and lifestyle brands, and has long-established relationships with the key press that drive these business categories and help determine the industry leaders. Agency principals have years of experience in retail and distribution as well as communications, a rare combination that gives Colangelo & Partners invaluable insights into consumer purchasing behavior.  The agency focuses on 'closing the loop' between creative communications programs, distribution, promotion, publicity and the consumer in order to maximize the efficiency of its communications programs and deliver measurable results. Founded in 2006, Colangelo & Partners was honored as one of the year's top integrated communications firms at the 2013 Agency Elite Awards and for one of the best digital marketing campaigns at the 2014 Digital PR Awards.
Want to learn more about Prosecco DOC USA? Sign up for our newsletter.
Sign up for the Prosecco DOC Newsletter