Prosecco DOC Makes a Splash at the Time Out Pool Parties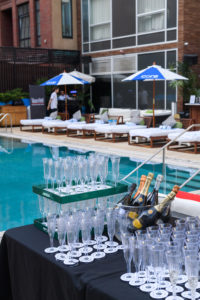 It has been a busy summer for Prosecco DOC. Over the last few months Prosecco DOC made an appearance at the Museum of Modern Art, the Hamptons, and pool parties throughout Manhattan and Brooklyn!
For our latest lifestyle adventure, Prosecco DOC teamed up with Time Out to be a part of three fabulous Pool Party events.
Music filled the air as DJs provided the soundtrack for the evening. Guests enjoyed the sun and warm weather with complimentary Prosecco DOC beach balls. Whether volleying their beach balls in the pool or just posing for pictures, attendees had a blast spending the night with friends and glasses of Prosecco. Cheeseburger sliders, fries, and more were available for guests to snack on; all of which pair perfectly with Prosecco DOC.
Great for casual gatherings with friends, Prosecco is one of the most food friendly wines. Its crisp acidity can cut through the salt in some of your favorite summer snacks, while its residual sugar compliments your go to sweet treats. Take a look at our Summer Pairing Guide to see how Prosecco can help you make the most of these last few weeks of summer.
Just because summer is coming to an end doesn't mean Prosecco is going out of season! Prosecco DOC is ready to kick off the fall, so be on the lookout for your favorite sparkling wine at your favorite fall events.
Want to learn more about Prosecco DOC USA? Sign up for our newsletter.
Sign up for the Prosecco DOC Newsletter